We get it, you've got a bunch of kids, they have a bunch of friends, they've all got a bunch of scooters and you need to haul them all around.
But, you're not ready to announce to the world that you've given up on life and become a glorified taxi driver for your offspring and their accessories.
You're still cool, you still have some style and you need a car that communicates that, but it still needs to be practical, reliable and dependable and not cost more than $35 grand. Here's our top 5.
5. Toyota Kluger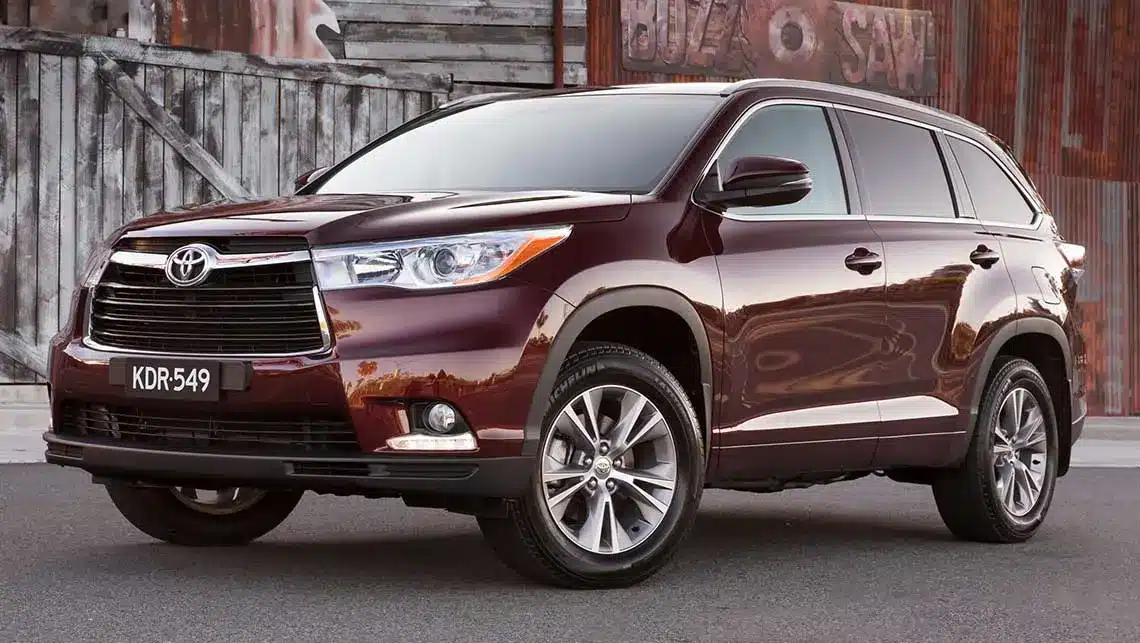 In fifth place, it's the Toyota Kluger or if you're not in Australia, it's a Toyota Highlander.
For 35 grand, the variants to go for are 2014 to 2018 models in either all-wheel drive, mid-spec GXLs or front-wheel-drive top-spec Grandes.
Klugers, or Highlanders, have been a sales success due to their ability to swallow 7 humans pretty easily with their practical and efficient use of space, good looks and Toyota's reputation for reliability and their incredible support network. But it's last on our list for a reason, a few reasons actually.  
Firstly the infotainment system is rubbish, yes it can be upgraded with an aftermarket system but the lack of Apple CarPlay, Android Auto and even any decent navigation system just isn't good enough.
Then you have the lack of USB ports. If you've got a bunch of kids, you're going to need a bunch of USB ports, all over the car. These things have 1 USB port and it's towards the front of the car in the centre console.
And finally, yes that V6 engine is smooth, refined and reliable but once you've loaded up with a few kids and all their stuff, the big Toyota can feel heavy and cumbersome to drive. Plus, it has quite the appetite for fuel, especially once it's loaded up.
4. Kia Sorento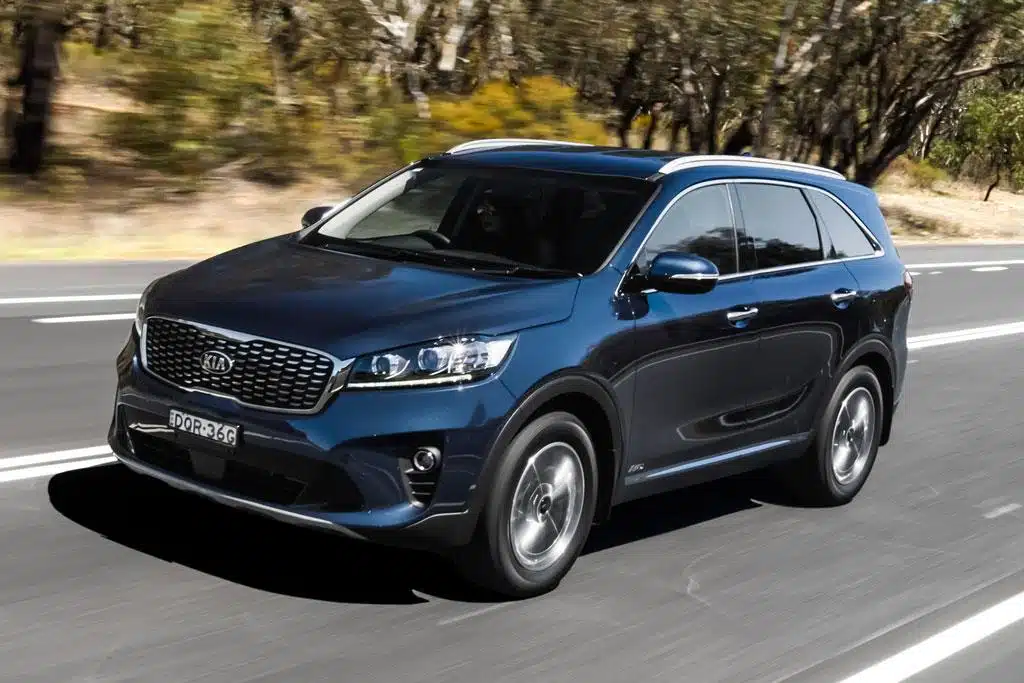 In fourth, sort of, it's the Kia Sorrento. We'll get to why it's a 'sort of' soon.
The one to hunt for is a post-2017 Sorento Platinum as you'll get all the lovely mid-life update editions to what is already a superb family hauler. 
A budget of 35 grand may require some serious haggling but it'll be worth it.
The Sorento is loaded with kit, it's lovely to drive, it's spacious, safe, fuel efficient, it's ageing really well in terms of fit and finish, it's showing superb reliability and thanks to ex-Audi designer extraordinaire Peter Schreyer, it looks very stylish too.
Add to that Kia's 7 year warranty and what's not to love, which brings us to why it sort of came 4th.
3. Hyundai Santa Fe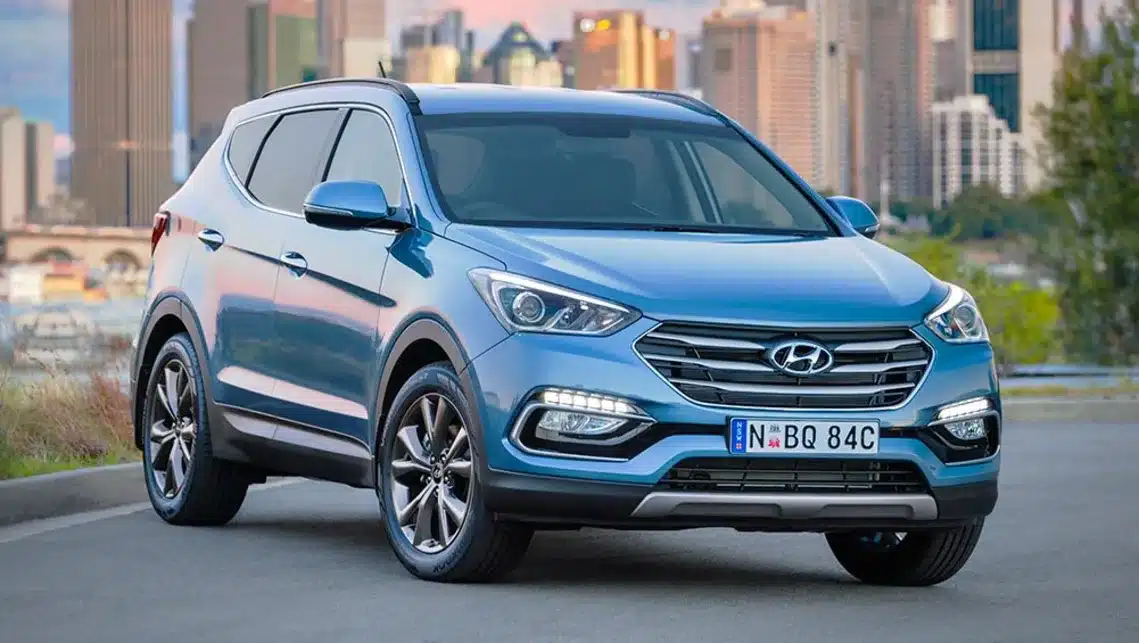 See, we pretty much had a tie between 3rd and 4th place as these two SUVs are very nearly the same thing. In 3rd, by the tiniest of margins, is the Hyundai Santa Fe.
Hyundai and Kia are two brands owned by the one parent company and under the skin, the Santa Fe and Sorrento are incredibly similar and they share a lot of common underlying engineering.
So what pushed the Santa Fe ahead of the Sorrento in this top 5?
Well with a budget of $35 grand, it's going to be easier to get behind the wheel of an updated 2016 to 2018 top-spec Santa Fe Highlander than it will be a Sorento Platinum. You might still need to haggle, but it should be much easier to get in the Hyundai.
Like the Sorento Platinum, the Santa Fe Highlander is drenched in equipment, safety tech and an intelligent use of its interior space. 
Its drivetrain is refined and reliable and its locally-tuned suspension makes for a comfy and bloody enjoyable driving experience.
The Hyundai Santa Fe does just about everything right.
2. Mitsubishi Pajero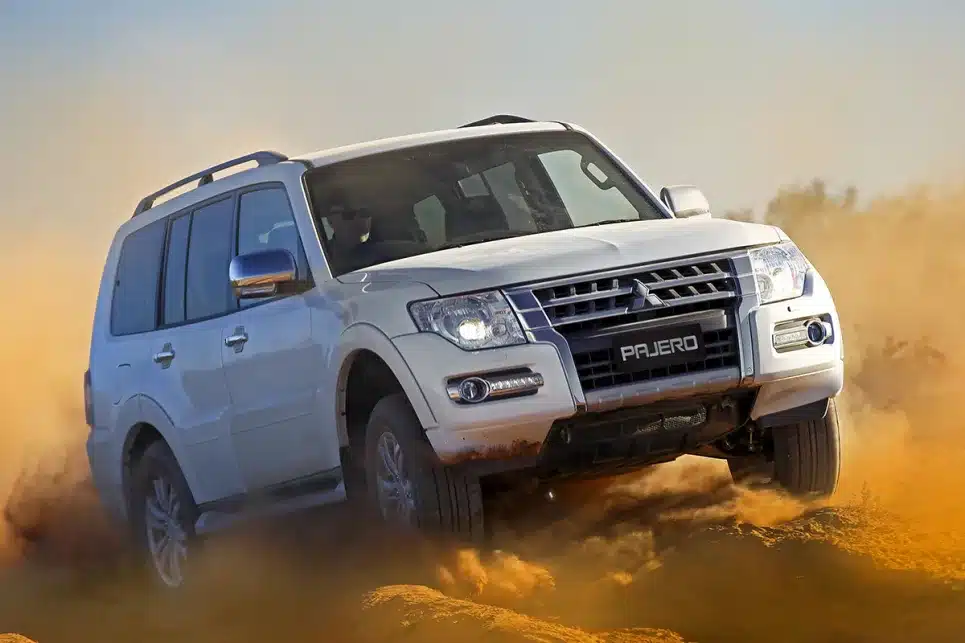 Now, in second, we felt we needed to include a more adventure ready SUV on the list, something that can easily tow a boat or climb a mountain in the middle of nowhere, something that really embraces the SUV name.  It's the Mitsubishi Pajero.
If you're after a civilised, refined urban runabout that can accommodate a bunch of humans and tackle some very light off-roading, maybe the Pajero isn't for you.
But if you want a truly off-road-capable SUV with serious towing ability, a post-2015 GLS or Exceed Pajero should be at the pointy end of your list.
The Pajero has been around since the Pyramids of Egypt were just some pharos wild property development idea but in that time, Mitsubishi has tweaked, adjusted and honed the Pajero into a bulletproof, yet quite refined off-roading monster.
Plus the Pajero is about 20 grand cheaper than an equivalent Prado so it excels when it comes to value for money too.
1. Mazda CX-9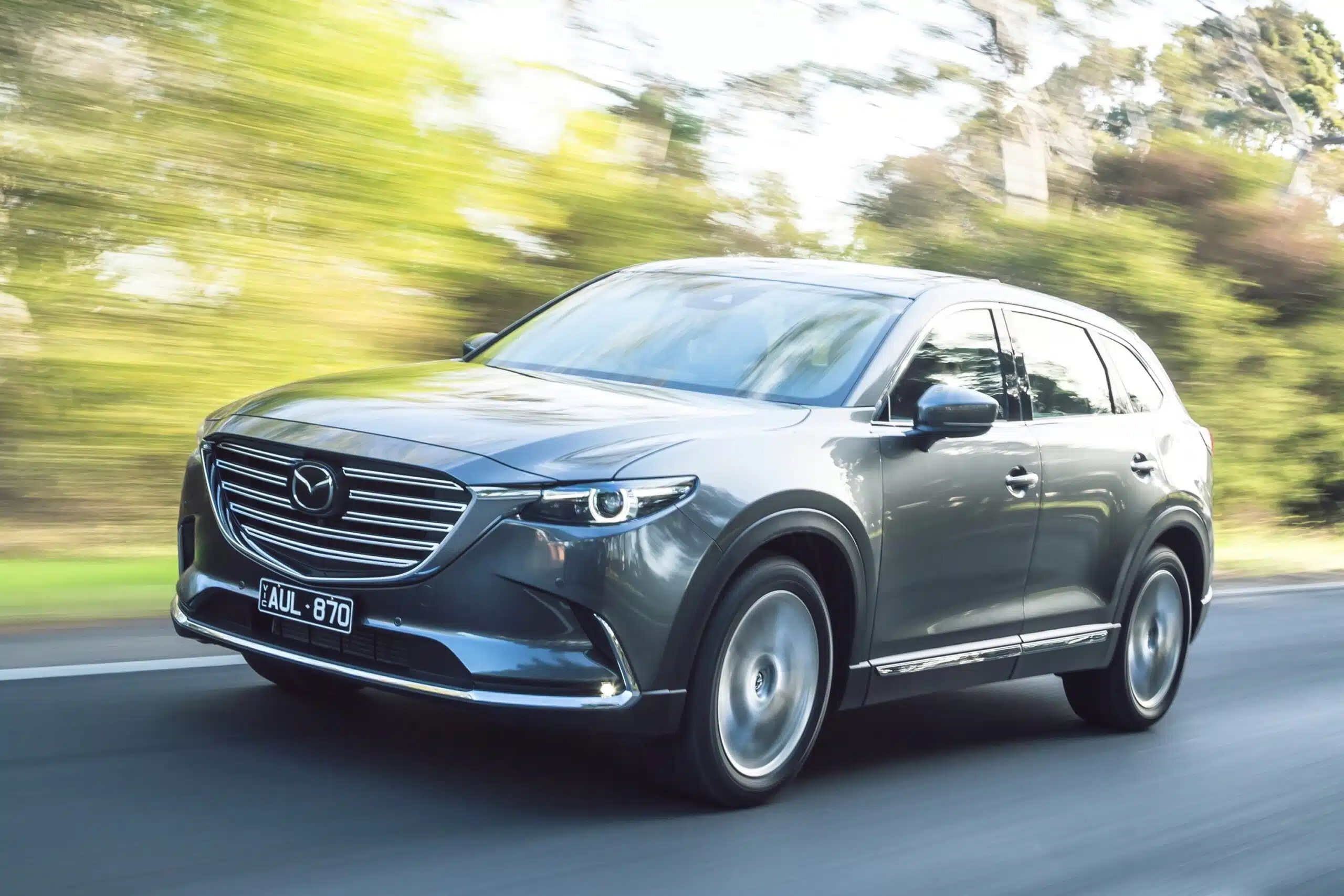 Taking out first place and let's be honest, it's the looker of this group, it's the Mazda CX-9
The CX-9 provides a more luxurious fit and finish and offers more tech and a more engaging driving experience than the Kluger.
Its very clever turbocharged 2.5-litre four delivers really strong performance while still offering excellent fuel economy without having to turn to diesel like the Kia and Hyundai.
Its interior is more spacious, luxurious and comfortable than the Pajero and the whole car feels about 300 years newer, although the big Mitsubishi will take you much further off-road.
Plus now they're populating the used car market, they offer incredible value for money.
The CX-9s to look for for under 35 grand are the 2016 CX-9 GT or Touring and preferably with all-wheel drive however, if you're keeping on the black stuff, the front-wheel-drive variant is still a fantastic thing.
We've reviewed versions the Toyota Kluger and the Mitsubishi Pajero.
In the market for a used car? Check out all our ReDriven Cheat Sheets.
Find all our video reviews over on YouTube.